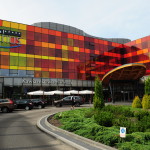 XVIII International Symposium on Theoretical Electrical Engineering
and
Symposium on Electromagnetic Evaluation of Materials SEEM'15
Kołobrzeg, Poland June 7th – 10th, 2015


Organized by:
West Pomeranian University of Technology, Szczecin
Faculty of Electrical Engineering

Under auspices of:
Rector of West Pomeranian University of Technology, Szczecin
Association of Polish Electrical Engineers SEP

with support of
Szczecin Section of Polish Society for Nondestructive Testing and Technical Diagnostic (PTBNiDT)
Szczecin Section of Polish Society for Theoretical and Applied Electrical Engineering (PTETiS)
Conference proceedings
Authors are invited to submit electronically previously npublished papers relevant to the symposium topics. Papers will be reviewed upon one page short papers, to be included in the Symposium Proceedings. Authors of accepted short papers will be encouraged to submit a full
version of the papers at the Symposium. The selected extended and enhanced papers will be published in a Special Issue of Compel (The International Journal for Computation and Mathematics in Electrical and Electronic Engineering). This special Issue 35/4 of COMPEL in 2016
will have a title: "Special issue on advances in theoretical electrical engineering". Other extended papers will be considered for publication in the Archives of Electrical Engineering (AEE), the journal of the Polish Academy of Science.
Working Language
English is the official language of the Joint Symposium and will be used for all printed material, presentations and discussions.
Registration
The registration fee per participant, including presentation of 1 paper, lunches, dinner, coffee breaks, participation in related events and all proceedings will be not more than 340 Euro. The final decision about the fee will be announced at the end of December 2014, after getting
information from sponsors.
Important Dates
December 2014 – February 2015 – short papers submission. Authors are invited to submit one page (A4) short papers.
Conference Venue
The Symposium will be held at the five stars hotel close to the center of Kołobrzeg, a few hundred meters from the coast of the Baltic Sea. Block of hotel rooms with special discount price will be reserved for the participants. Besides the conference facilities the hotel offers restaurants, bars, fitness center, swimming pool and garage parking.
Correspondence
West Pomeranian University of Technology, Szczecin
ul. Sikorskiego 37
70-313 Szczecin,
Poland
Tel. (+48) 91 449 49 67
E-mail: This e-mail address is being protected from spambots. You need JavaScript enabled to view it
Web page: www.istet.zut.edu.pl
Downloads
1st Announcement